Workshop Description
Monday –Friday, APRIL 20-24
9:00 am –12:30 pm
Fee: $425
Instructor present each day
Enrollment limited to 12 students
Please Request Supply List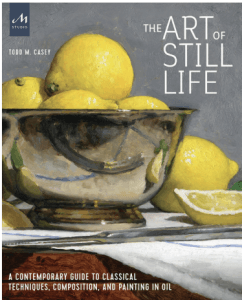 In this workshop students will learn the fundamentals of how to create a still life painting from direct observation. During the course of 5 sessions, each student will do a still life painting of their setup using a direct method of painting (alla prima). Some topics that will be discussed will be: composition, drawing, light, color theory, form, depth, edges and how to work a narrative into your work. Materials will be discussed as needed (paints, brushes and board/canvas).
Please bring your own materials and also a setup that interests you. Also, keep the setups simple, 2-4 objects max. The instructor will mostly give individual critiques working one on one with each student. Students of all levels are welcome.
About the Instructor
Todd M. Casey studied drawing and painting at the Water Street Atelier with Jacob Collins and also at the Art Students League with Max Ginsburg.Drawing inspiration from classical art, historical literature and personal experience; Casey imbues each piece with a love of both pragmatic, corporeal form, and storied, intentional function. Every painting has a story to tell; whether emergent from the viewer's own perception or brewed from the very deep well of introspective thought the artist inculcates with each brush stroke. Subtlety, re ned grace, meditation, and honesty— are the hallmarks of his aesthetic.His paintings have been honored with awards several times in recent years. Most recently, he won rst place 3 years in a row in the Portrait Society of America Members Only Competition, and a gold medal in oil painting from the Allied Artists of America, in 2015. His work can be found in collections throughout the United States.