Your NYC Art Supply Store in Midtown Manhattan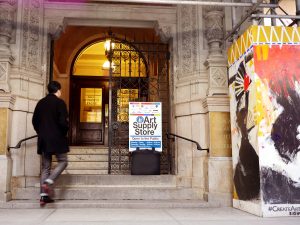 The League's NYC Art Supply Store is located in the  lobby of the famous Art Students League of New York in midtown at 215 West 57th Street, between Seventh Avenue and Broadway, New York City 10019. Right across the street from where our friends at Lee's Art Shop used to be, the League's Art Supply Store is the leading midtown store for studio artists.
Now you can take advantage of the same convenience,  helpful service, and low prices that demanding fine art students at the "League" have enjoyed for more than 100 years. The store may be small, but the selection is large. We're open from 8:30 am to 8:30 pm on the weekdays and from 8:30 am to 4:00 pm on weekends. The store accepts Mastercard, Amex, Visa and Discover.
What We Have
The League's Art Supply Store specializes in fine art supplies in drawing, painting, sculpting, and printmaking. Our staff are all knowledgeable studio artists who can help you with your selections (and without attitude). The store also offers a range of other useful items (and gift ideas), including art-related books, t-shirts, aprons, hats, and mugs. Gift certificates are also available for purchase.
Store hours:
Monday – Friday:
8:30 am – 8:30 pm

Saturday – Sunday*:
8:30 am to 4:00 pm
(*Closed Sundays, June–August)

Holiday Closings:

The League is closed on the following holidays: Yom Kippur, Thanksgiving Day, Christmas Day, New Year's Day, Martin Luther King Jr. Day, Presidents Day, Easter, Memorial Day, the Fourth of July, and Labor Day. On Christmas Eve and New Year's Eve, the building typically closes early at 5:00 pm. Please see the School Calendar on the Events page for upcoming holiday information.

Telephone:
(646) 838-9114

Email:
store@artstudentsleague.org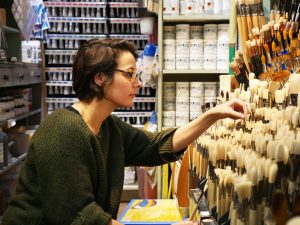 Save