Give the Gift of Original Art by Emerging Artists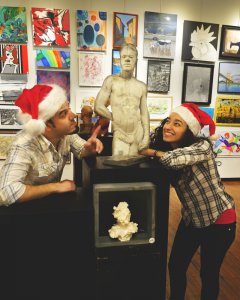 The Annual Holiday Show and Sale in our main gallery presents more than 425 works on sale at the Art Students League of New York for prices as low as $50. Every December, art-lovers and gift-givers bring home great values, choosing from a wide variety of works by emerging artists. Paintings and prints—landscapes, portraits, still lifes, and abstractions—sell for no more than $1,000. Prices for sculptures are capped at $1,500.⠀
⠀
Rare art books and exhibition catalogs are also available for purchase. Proceeds from the book sale benefit NYC's youth through the school's Seeds of the League program.⠀
⠀
Some of the best works go early, but artists always put up new work after a piece is sold.
Show Dates
Monday, December 11 — Friday, December 22
Gallery Hours
Weekdays  9:00am–8:00pm
Weekends  9:00am–4:00pm
Please note show closes at 5:00pm on Friday, December 22